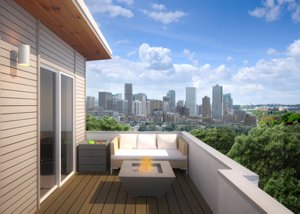 Whether you are new to Denver or a native, a challenge everyone faces is where they will live and how they will afford the cost of the ever-rising rent in the city. Renting an apartment or a house in Denver is always a challenge, starting with where to look for a rental. For those of you that like the lights and sounds of the city, looking for a rental in the Lower Downtown area or the Ballpark district would be ideal. For those of you who are looking to be in the next up-and-coming areas, Five Points and the Highlands are rapidly growing into the most desirable areas in the city. Others who are looking for more trees and green, maybe a park down the street, should consider Wash Park or Capitol Hill as potential living locations.
Apartments in Denver go Fast
Once you have figured out a neighborhood, it is time to find an apartment along with a good amount of other people. One of the challenges when looking in these popular neighborhoods is that there are always others also looking to rent. So, good rental properties stay on the market for a very short time, many times being snatched up in a few hours. Patrolling Craigslist and Trulia and Zillow all day long can take a toll on any person and is discouraging when looking for a place.
High Demand Equals High Rent Prices
The final hurdle with renting are the skyrocketing prices of rent in Denver. With the ever-growing population, there is such a high demand for new rental properties and with that comes rising rent prices. Denver has now been compared to the likes of Los Angeles when it comes to rent prices, something many of us do not like to hear. Recently in their "Out of Reach" report, the National Low-Income Housing Coalition broke down exactly how many hours every individual household would have to earn per hour to be able to afford basic rental prices today. In Colorado, the average a person would have to make was $19.89/hour, which is nearly three times the current federal minimum wage of $7.25, to afford a basic two-bedroom unit. Today, the average renter makes an average of $15.16/hour which explains why so many people are looking to rent with one or a few roommates to keep the price of rent down. Nearly half of the U.S. population who rents is spending more than 30% of their income on housing. Like I mentioned before, with such a high demand for housing in Denver and not enough supply, rental places can charge higher amounts.

Consider the Benefits of Buying
As a realtor, I understand the frustrations that come with renting, and that is where I would encourage people to consider buying a house. Paying a mortgage, while like rent, is for your own house and eventually is paying off for you to have your first starter home or the home of your dreams. Investing now will pay off down the road, and you won't be paying over a quarter of your income to someone else - that money will be going back towards your own investment.

All of my staff at New Era Realty would be happy to help you begin your search for your home. Please contact us or give our office a call today at 303-991-9878.