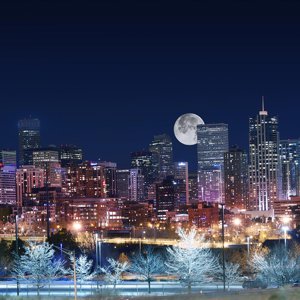 As Americans, we've grown up with the idea that bigger is better and having more of something will make you happier. But, when it comes to outgrowing the lifestyle associated with the space of your current house, downsizing into a smaller, less-maintenance urban style condo, loft or townhome may actually afford you the freedom and flexibility to enjoy more of your life as you enter into a new phase of your life, whether it's retirement, starting a new job downtown or just wanting to live downtown so you're closer to all of the action of the city.
Enjoy the Sites of the City
When you trade in the suburbs for downtown living in the Mile High City, you're opening up the opportunity to experiencing some of the best entertainment, restaurants, nightlife and sporting events in the country. Denver is home to not only some of the best museums, performing arts centers and exhibits, but the city is laced with an extensive network of trails, parks and outdoor activities for residents of all ages and lifestyles to enjoy. And, the sporting scene in Denver is non-stop, year-round entertainment as your home team Broncos, Avalanche, Nuggets, Rockies and Rapids compete for national recognition and championships.
Less is More
When you're raising a family, having enough space in your home to accommodate everyone's needs is very important. But, when you have more space than you need, you can quickly come to realize that you have more clutter to clean up, more stuff to keep organized and more closets to fill to the brim with all of your things. Downsizing your living space can allow you the opportunity to downsize your life responsibilities by only keeping the essential items that are of the most importance to you and minimizing the time and energy you spend on upkeep, cleaning and organizing. Also, if you choose to downsize into a home that doesn't have a large yard or outdoor area that's your responsibility, then you will have more time to enjoy the beautiful Colorado outdoors, rather than laboring away in your yard season after season.
Grow Into Your New Lifestyle
Moving into a new home brings a new level of excitement, opportunities and living space for you to grow into and enjoy, especially when you embark in urban, upscale living. The trendy Mile High City neighborhoods in and around the downtown area all offer a unique energy and environment to meet your specific living requirements and lifestyle dreams. To find the best downtown home that meets your needs and lifestyle, give the Denver real estate experts at New Era Group a call at 303-991-9878. They can help you find your next dream condo, townhome, loft or single family home in the Mile High City with all of the amenities and features you are looking for.