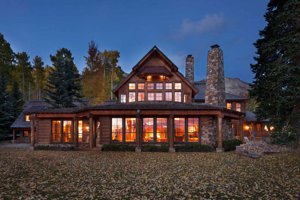 From being one of the most desirable places to live for Millennials, Baby Boomers, outdoor lovers and craft beer enthusiasts, Colorado has made its fair share of Top 10 lists over the past few years. But, when it comes to the price of real estate, Colorado was recently ranked as one of the Top 5 states with the most expensive homes for sale from across the country.
Colorado Offers Mile High Living
Listed at $59 million, a high-end cabin resemblance on 298 acres in Telluride, Colorado takes the cake as the state's highest listed residential property for sale in the state of Colorado. And, according to MSN Money, the price of this mountain town property puts Colorado as the state with the 5th most expensive home for sale in the United States. The only other states in the country that have real estate listing prices above and beyond Colorado's Telluride property are Connecticut ($65 million), Florida ($139 million), New York ($140 million) and California ($195 million). And, if you're wondering which states have a smaller price tag for luxury living – you'll find North Dakota, South Dakota and Mississippi as your best bets at around $3 million for each state's most expensive properties.
Denver Luxury Homes Outpace Real Estate Market
According to a recent report released by the Denver Metro Association of Realtors, Telluride isn't the only area in the state that loves luxury living. The Denver Metro area has seen a huge upswing in the market of single-family homes priced at or above the $1 million mark. Last month alone, 56 homes priced at or above $1 million were sold in the Mile High City. And, the overall $1 million single-family home selling market rose by 14.3 percent in November when compared to the same month last year. Plus, the good news for sellers is that luxury homes in this price range aren't sitting on the market as long as they did in past years.  The DMAR reported that current luxury homes in the Denver metro area are selling 49 days faster than last year.
Enjoy the Life of Luxury
If you're ready to move up into the luxury home market in either downtown Denver or around the surrounding, the luxury living real estate experts at New Era Group can help you find the perfect home with all of the features and amenities you desire. Give us a call so you too can enjoy the life of luxury.