As a real estate agent most days are packed with numerous appointments and tasks. While I do my best to keep focused and caught up, it recently occurred to me as I walked through the busy streets of downtown Denver how much I might be missing.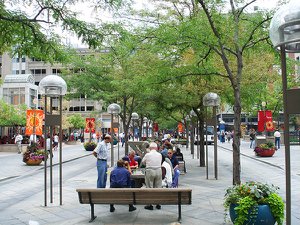 Don't get me wrong, I love talking with people, helping people, and seeing the excitement that comes with a new home or having sold one, but sometimes getting out and exploring is just what is needed.
What a Beautiful Place We Live!
For instance, the more I walked I was enamored by the various small cafes, coffee shops and restaurants. I realized that I hadn't visited many of these local treasures. Many us downtown dwellers are aware of the eclectic and fun stops in LoDo and LoHi, but as you pass through other neighborhoods be on the lookout for something new. Some of my best memories come from frequenting the smaller, hidden venues with families and friends. Look around and you might be surprised.
Natural Beauty in the City?
Take a moment to appreciate the wonderful parks, flowers and fauna that adorn downtown. Most outsiders consider the downtown area as concrete, metal and glass, but if you look around you will discover myriad open green spaces and areas where shop owners and residents that have created stunning little gardens with flowers of every color and type. It is a reminder that our Colorado love for the outdoors isn't just confined to the mountains, but really exists everywhere.
Do You Smell Coffee?
It is amazing how many small coffee and tea shops are in Denver. We are all associated with the big chains and movers and shakers, but if you allow your nose to be your guide, you will discover some of the quaintest spots in the city. Places where people talk, read, work and enjoy the city over the aroma of espresso and muffins.  These generally are not the place for people in a hurry, but people that want to connect.
For Heaven's Sake, Just Smile
Too many people view the downtown of a big city as cold, disenchanted and unengaged. I can't really speak about other cities, but Denver is not that way. I talk with people daily who live/work here and they love it. For many of my clients, getting closer to the action and buying a downtown loft or condo was the best decision they've made. Being surrounded by some of the best entertainment, sports, restaurants in the city is great, but to them it is the people. It is amazing how far a smile goes as you walk down these busy streets, visit farmers markets or in line for coffee. Denver is full of some of the friendliest people in the world; we just need to remember to show it.
Enjoy your Adventure...
I intentionally left out the names of the small shops and places I love to visit to give you the opportunity to discover them for yourself. Don't be afraid to venture off the path, perhaps make a bucket list of areas to visit — or even ask a friend to join you on your adventure. If you're stymied and need a few suggestions of where to start, just give me a call at 303-991-9878 or check out our Denver lifestyle posts here. Enjoy your city... and smile while you are at it!